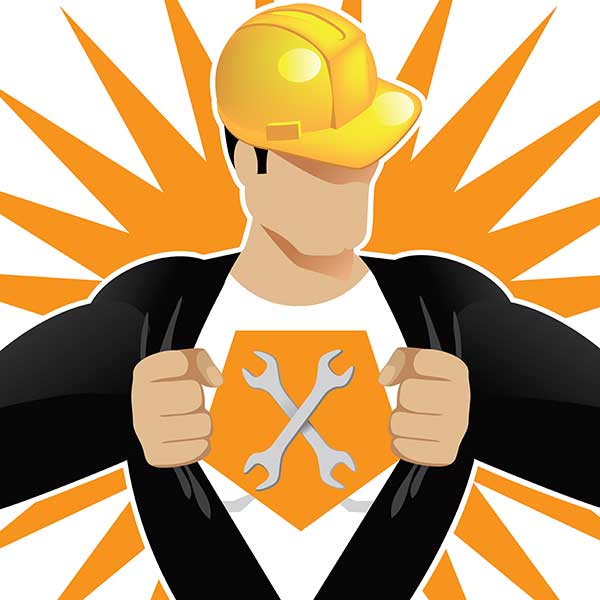 We are heating and cooling professionals! We maintain a high level of quality among our staff. All of our installers and technicians are trained on a regular, on-going basis. We, and they, are certified by the following industry organizations:
Bonded & Insured
Licensing: State of Ohio HVAC Contractors License #30419, Electrical Contractors License 25186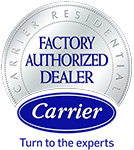 Carrier Factory Authorized Dealer
Carrier Factory Authorized Dealers are the home heating and cooling experts to turn to. They are your single resource for everything you need -- from tailoring your ideal comfort system to installation, service and beyond.
Look for the Carrier Factory Authorized Dealer seal of approval -- it means your dealer has met our rigid criteria for quality. In fact, Carrier offers you a 100% satisfaction guarantee when you purchase your Carrier equipment from a Factory Authorized Dealer. It's your sure sign of an air conditioning and heating system dealer that will provide you with superior products, intelligent insight and the ultimate service.
Becoming a Carrier Factory Authorized Dealer is no easy feat. Only those expert heating and air conditioning dealers who meet our highest standards and closest scrutiny -- not only for their technical expertise, but also for their business practices and customer service quality -- earn the Carrier Factory Authorized Dealers distinction.

Sidney/Shelby County Chamber of Commerce
As an organization of 500+ members doing business in Shelby County, our purpose is simple. We want to help your organization achieve a higher level of success. The programs we offer will help you enhance the visibility of your organization in the marketplace, help you save money on your operating costs, and help you and your team make better business decisions.

Associated Builders and Contractors Association
Associated Builders and Contractors (ABC) is a national construction industry trade association representing nearly 21,000 chapter members. Founded on the merit shop philosophy, ABC and its 70 chapters help members develop people, win work and deliver that work safely, ethically, profitably and for the betterment of the communities in which ABC and its members work. ABC's membership represents all specialties within the U.S. construction industry and is comprised primarily of firms that perform work in the industrial and commercial sectors.

Aileron
Aileron was founded on the belief that privately held businesses fuel free enterprise and raise the quality of life for all. As businesses reach and seek to move beyond the second stage, professional management is critical to sustainable growth. As a 501 c3 non-profit founded in 1996, Aileron continues to grow and develop to serve this purpose.

The Builders Exchange - Cleveland
Founded in 1881, the Builders Exchange provides a wide variety of services specific to the construction industry. For example, our construction reporting service includes on-line reporting with full project information, including specs, addenda and drawings, 24 hours a day, seven days a week. We offer planroom services in Cleveland, Cincinnati, Dayton and Toledo.

The Builders Exchange of Central Ohio
The Builders Exchange of Central Ohio advances the commercial construction industry as the resource for communication, education, services and recognition.
Founded in 1892 in Columbus, the Builders Exchange of Central Ohio has more than 700 member firms, representing the entire spectrum of the industry. Members include architects, engineers, general contractors, subcontractors, material suppliers and manufacturers, along with related professionals such as attorneys, insurance and bonding agents, bankers and accountants.

Shelby County Builders Association
Mission Statement
The Shelby County Builders Association exists to inform the public that there are local businesses (contractors, electricians, plumbers, etc.) in Shelby County who possess the expertise to perform the tasks required for the construction of residential and commercial structures in our community. Our purpose also is to give back to the community through scholarships, donations, etc.

Dublin Chamber of Commerce
With nearly 1,100 members, the Dublin Chamber of Commerce in Dublin, Ohio serves as the voice of the business and professional community. The Chamber represents a wide variety of businesses in Dublin, from large to small, and accountants to zoos.

Greensburg Chamber of Commerce
The Greensburg/Decatur County Chamber of Commerce is a member led organization. Established in 1906 as the Greensburg Businessmen's Association (GBA), the organization was developed to unite the businessmen in the community to work toward common interests of the business community.

Wapakoneta Area Chamber of Commerce
The Wapakoneta Area Chamber of Commerce is the voice of area business. Through partnerships with local governments, organizations and agencies, the chamber promotes and supports Wapakoneta's prosperous economy for the benefit of the entire community.

Marion Area Chamber of Commerce
Mission Statement
The Marion Area Chamber of Commerce is an association of businesses providing leadership for improvement of the economic prosperity and quality of life of the Marion area.